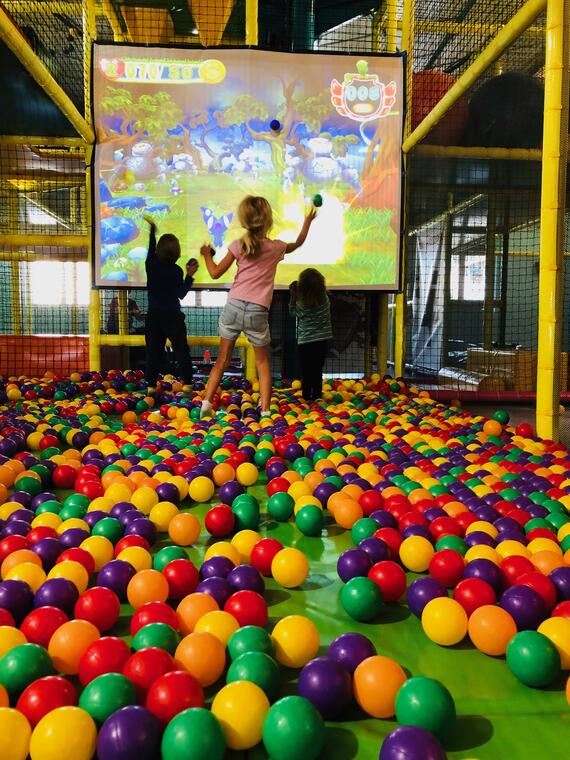 Ludilucky Park Péronnas
Leisure,
Recreational activities,
Games for children
in Péronnas
Indoor playground for children from 1 to 12 years old.
Far West theme - Small restaurant on the spot.
Organization of events / Birthdays, Christmas trees...
Reception for groups and communities.
Rental of inflatables - Privatization of rooms.

1200 m² of games including different tubular structures, slides, ball pools, ball showers, bungee tower, ball cannons, giant legos, turnstiles...
Various activities and animations proposed during the school vacations.

Fully air-conditioned park (cold and hot)
Socks must be worn (children and adults)
No picnics allowed.

Playground, table soccer, games room, reception room, baby chair, air conditioning, restaurant, toilets.
Ticketing in number, equipment rental, banquet.
Groups (Max capacity)

300 Maximum number of people
Accessibility

Accessible for wheelchairs with assistance
Accessible for self-propelled wheelchairs
Possibility of drop-off in front of the site

Activities

Equipment

Bar
Car park
Private parking
Wifi in room
Table

Chair
Air conditioning
Round table
Rectangular table

Services

Coach access
Room hire
Wi-fi
Restaurant
Fast food
Bar

Fitted kitchen
Dining area
Restaurant on site
Cutlery and crockery provided
Family Reception/drinks reception
Exhibition/trade fair
Rates

Adult : 1,50 €.
Child : from 7,50 to 9,50 € (depending on age).

Free for children under 1 year old.

Birthday packages : from 11,90 € / child (minimum 6 children)
Subscription card 10 entries (children and 2 adults): 75 €.
Privatization of the site for Christmas tree, events or family reunions: please contact us.
Openings

All year 2023

* Opening hours except school vacations: Wednesday, Saturday and Sunday + public holidays = 9:30 am to 12:30 pm // 1:30 pm to 6:30 pm Opening hours during the school vacations except summer: Monday to Saturday included / closed Sunday of the vacations = 9:30 am to 12:30 pm// 1:30 pm to 6:30 pm